Ad blocker interference detected!
Wikia is a free-to-use site that makes money from advertising. We have a modified experience for viewers using ad blockers

Wikia is not accessible if you've made further modifications. Remove the custom ad blocker rule(s) and the page will load as expected.
Welcome to Dynasty Wiki!Edit
Ever since it's debut in 1997, Dynasty Warriors has gained the interests of anime fans and koei fans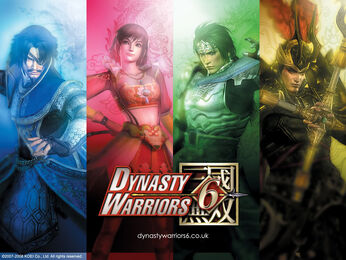 everywhere. Now, Dynasty Warriors is one of the most popular war games in Japan and America. This game has also spread through cosplay and online rpgs due to its high popularity. Over the years, Dynasty Warriors has evolved into an HD gaming format where you can play over fourty characters, each with their own individual attacks and weapons, drawing in more fans.
Since Dynasty Warriors is so popular, it deserves a wikia too, so welcome to Dynasty Wiki! Here you will find character profiles, ratings of all the games, and how to unlock certain things here and there.
Latest News
Edit
ONLINE MULTI-PLAYER DYNASTY WARRIORS®: STRIKEFORCE COMING TO CONSOLES ON FEBRUARY 16, 2010
Edit
Launch multi-player tactical raids on Imperial China from your Xbox 360® video game and entertainment system from Microsoft and PlayStation®3 computer entertainment system
Burlingame, CA, November 19, 2009 -- The world's premier action franchise is back with a vengeance and for the first time going online with four-player Tactical Action combat. KOEI Corporation today announced DYNASTY WARRIORS®: Strikeforce is coming to Xbox 360® video game and entertainment system from Microsoft and PlayStation®3 computer entertainment system on February 16, 2010.
DYNASTY WARRIORS: Strikeforce takes place in a mystic version of ancient China where warriors possess the power of "Fury". This power gives them superhuman strength, lightning fast speed and the ability to fly. Taking the role of any one of over 40 playable characters, up to four friends can go online to launch raids as a team or battle it out competitively.
Using voice or text chat to coordinate assaults, players will go on campaigns to infiltrate heavily-armed enemy strongholds, clash with thousand-man armies, or to slay dragons and other massive beasts. In single-player mode, players have the option to choose and command up to three AI-controlled officers to join them in offline missions.
Latest activity
Edit